Whether office complex, hotel resort or detached house – you benefit from a wide range of practical and creative possibilities to operate your modern building technology. Find here a little idea supplier:
Alarm System
The u::Lux Switch with optional sensors and combined with your intelligent home control reliably protects your house! Use the video surveillance as well as the alarm function at the intelligent u::Lux Switch. The individual presence simulation will muck around with uninvited guests and ensures additional protection with automatically operated light, blinds, radio, TV or even garden irrigation. And if somebody should seek to obtain unauthorized entry you will be instantly informed via SMS or email while the u::Lux Switch will play an acoustic warning signal.
Even in case of a power failure you don't need to worry – just connect your sensitive components and devices to an UPS – an uninterruptible power source.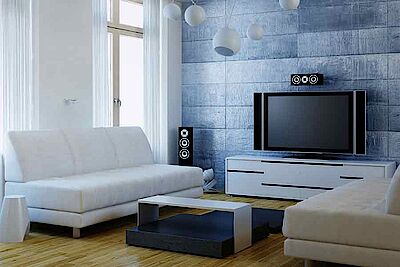 Multimedia & Co
Gone are the days when you had to operate radio, TV, home cinema system and sound system with several different remote controls: Through the u::Lux Switch you control your home cinema and sound system easily and conveniently via the intuitive colour graphic display with four haptic keys. Play your desired music playlist, adjust the volume or the timer and much more directly on your switch.
Sauna and pool control
Comfortably operate your sauna and pool control with the intelligent u::Lux Switch. Thus you keep track of temperature, quality and height of water or instructive messages. Switch on or off at the push of a button, heat sauna and pool to a comfortable temperature or do further adjustments quickly and easily.
Garden Irrigation
Whether parks, public green spaces or the own little garden paradise: hedges, lawn and plants require a good deal of tending. Now you can manage the optimal garden irrigation with only one key stroke at the u::Lux Switch. Linked to the local meteorological service the switch can also automatically water the plants on particularly hot days or on rainy days it can throttle or switch the garden irrigation off.
Networked HVAC-technology
With the variable u::Lux system you use the saving potential of every property. Through the well thought out and intelligent operation through our switch you are able to control your heating- air conditioning- ventilation- and sanitary facilities in a user-friendly way. Whether detached house, residential complex or skyscraper – thanks to the energy efficient operation of the building equipment you are able to reduce your operating costs.
Exterior Lighting
Whether parking space, garage door, entrance area or garden: Ensure a functional and demand-oriented lighting of the sidewalks and the entrance and put your outdoor area stylistically confident in scene.
Shutters and Blinds
Linked to the local meteorological service you operate your shading systems completely automatically: according to the position of the sun, brightness, outdoor temperature and weather conditions. Depending on the sunlight your blinds automatically ensure optimal shading while the heating regulates itself down protecting your wallet – because with these intelligent measures the air conditioning runs on a basic stage or can even be switched off completely.
Light Management
With the right lighting mood you support the concentration, motivation and commitment of your employees and provide a relaxed feel-good atmosphere inside your own four walls or in the exclusive spa of the hotel. Arouse and support these emotions with daylight-related light management through the u::Lux Switch. Colour temperature, dimmer and light intensity can be operated easily and intuitively. Intelligent light management also supports the reduction of operating costs.